Hosted by Calgary Municipal Land Corporation St. Louis Hotel in the East Village.
It is time to SHIFT or get off the pot!
t's time to "shift or get off the pot". We need to make decisions now about what the future will look like, instead of debating what is changing and how fast. We need to engage with future, with vision, and consider the effects. This two and a half day gathering will do exactly that.
The Shift is an opportunity for Calgarians to come together and take a step into the future, embrace some of the possibilities and together, build the future we need.
The Night Shift - Leading the SHIFT (Keynote Reception) June 15th 6:00pm - 8:00pm
Thursday, June 15th is the Night Shift - Exploring the Political Dimensions of the SHIFT. Confirmed Keynote Mick Cornett, Oaklahoma City Mayor, a Republican voted one of the best Mayors in the world!
The Day Shift - Designing a Future City (Interactive Conference) June 16th 8:00am - 5:00pm
Friday, June 16th is the Day Shift where participants coming from the most influential sectors of community will encounter a series of short provocative views into the future and then work together - in a profound act of imagination - to understand the impacts and build some prototypes of how these things will work. 16 Provocateurs will be speaking in rapid fire presentations on: Economy, Living and Working, Energy and Food, Getting Around.
Featuring Lunch Keynote: David Addison with Virgin Earth!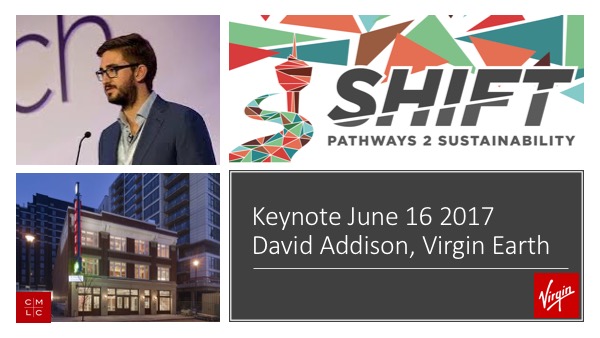 Everyone SHIFT - Experiencing the Shift (Exhibitor Showcase) June 17th 10:00am-3:30pm (free public event!)
Saturday, June 17th is the Everybody Shift, featuring a future-focused festival where hundreds of members of the community will visit and experience some of the results off the day before, view films, engage with interactive exhibits, and get a ride in a TESLA!
All of this will take place at the historic St. Louis Hotel. A most fitting location. It is an historic structure repurposed to work in the future, seated in a neighbourhood with the same aims and in the shadow of two of Calgary's most exciting projects (National Music Centre and the new Public Library building).
Pathways to Sustainability wants you to help us take a step into the future of Calgary. We are offering an opportunity to participate in this unique and important event that will be a kick-off to a series of activities over the next year focusing on The SHIFT.
Registration: $135 (Full Conference); $50 (June 15th Reception); FREE (June 17th Exhibitor Festival!)
https://www.eventbrite.ca/e/shift-or-get-off-the-pot-tickets-33566547447